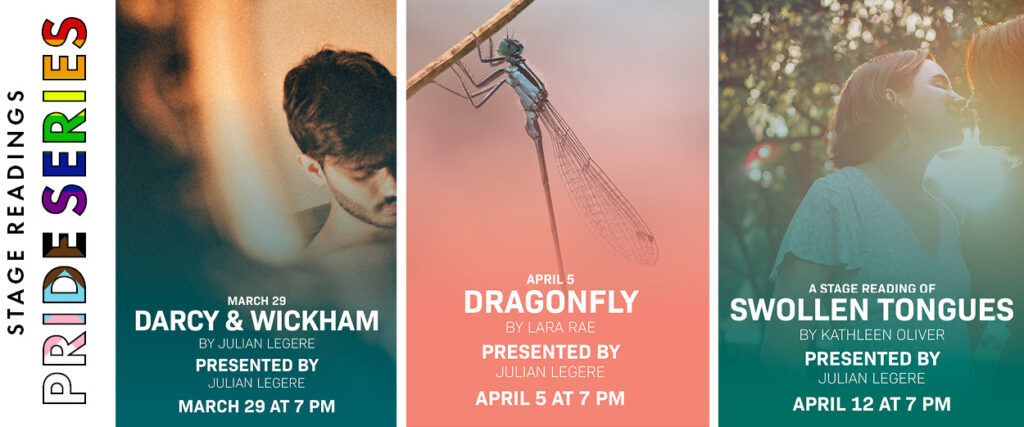 "Darcy & Wickham" is a queer re-imagining of the checkered history between Fitzwilliam Darcy, George Wickham, and Georgiana Darcy as alluded to in Jane Austen's Pride and Prejudice. It follows the three lead characters through childhood, adolescence, and early adulthood as they fight to hold on to their chosen family while navigating the ruthless rules and expectations of class and gender that dominate Austen's Regency society.
In Dragonfly, Lara Rae tells the raw and heartfelt story of her half-century long (and counting) gender odyssey. Dragonfly presents us with two actors, one male, one female, who illuminate the inner life of a trans woman from her Scottish childhood in the 1960s to the present day. Matching our inside to our outside is always hard, but for trans people it's often a matter of life and death. Stripping away the visual cues that both define and imprison transgender people, Dragonfly is a call to all of us to forge creativity from chaos. So often, it is the external changes in trans lives that the world is exposed to and confronts. Here as Lara says, is the "inside voice" of a trans child, ever present, ever demanding to be heard, ever rising upward, to growth, peace, security and love.
In Swollen Tongues, Thomas and his sister Catherine are both receiving instruction in the powers of poetry by their tutor Dr. Wise. While Thomas is more prolific than skilled in his praise of his beloved, Sonja, Catherine is strangely mute. The problem? Catherine is secretly in love with Sonja, too, and has taken the liberty of improving her brother's verses and giving them to Sonja under an assumed name, Overripe. In this sensual comedy of manners, the characters discover that no-one is without secrets, and that poetry can unlock the door to love in unexpected ways.